Back to News
European Compliance & Financial Crime Hiring Market Outlook – Q2 2021
Our Q1 market update reported a record increase in the number of roles that the Danos Associates EMEA Compliance and Financial Crime team had worked on compared to the previous year. Q2 has gotten off to similar start, with the team already working on double the number of roles in July, compared to that of the whole of July 2020 – the amount of activity in the market is the highest it has been for at least a decade.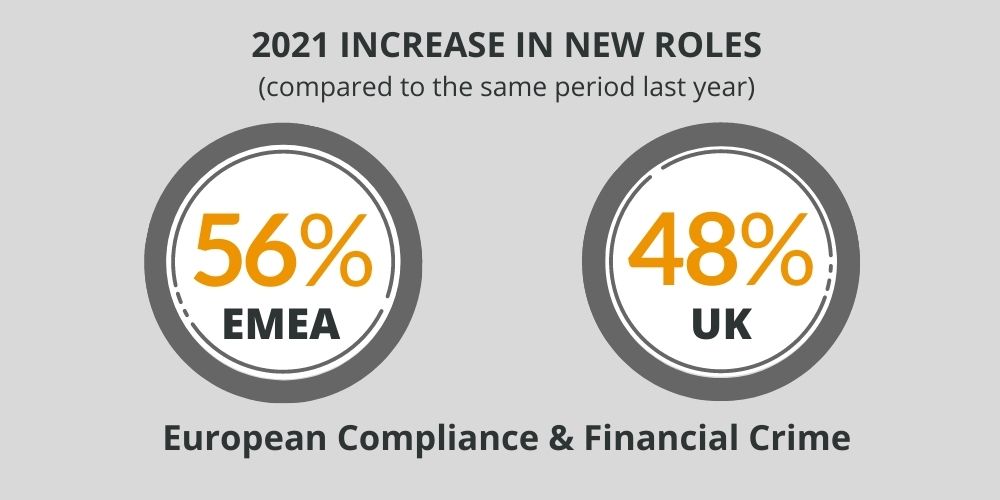 We are seeing a real "war for talent" emerging, with candidates at all levels (but particularly at the junior and mid-levels) starting to receive multiple offers, and an increase in salaries. We have been advising clients on the importance of shortening their time to hire to the minimum, to enable offers to be made quickly and ahead of any competition.

At the senior end of the market there is a significant amount of movement taking place. Our retained search team has already pitched and won more retained assignments in the first four months of this financial year than in all of 2020. Our clients are understanding the importance of utilising a dedicated search team to look at the entire candidate market, as opposed to relying solely on advertising or social media. The use of retained search is a trend set to continue throughout 2021 and into 2022 as firms look to speed up their time to hire for key senior regulatory positions.
The busiest sectors within financial services currently are Brokers, Asset Management, Private Equity, Cryptocurrency and Payments.  From a candidate perspective demand is very high for AML, Surveillance, Regulatory Change, and Generalist Asset Management candidates.
Please do get in touch with Denis Spearman or any of the dedicated Compliance and Financial Crime team to discuss your hiring needs, or your career and how we can help you find a new role.