Back to News
Singapore No.3 Global Financial Centres Index's
Singapore moves up three places in the Global Financial Centres Index's (GFCI) and becomes the third in the world after New York and London in the first and second spots.
Headcount in Singaporean Financial Services continues to expand. The Monetary Authority of Singapore announced in September that 3,000 to 4,000 net new jobs will be created on average each year between 2021 and 2025.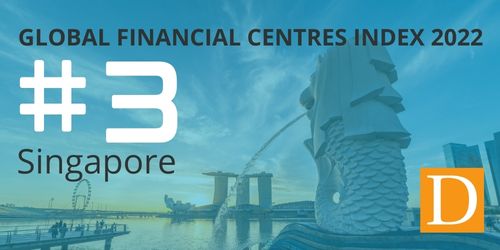 The Danos Group has been proving specialist recruitment solutions to Singapore and the region since 2012. With an office in Singapore we provide the best Compliance, Financial Crime, Risk & Analytics, and Legal talent to leading firms within Financial Services.
Over the past decade, our consultants have developed a comprehensive network of clients and candidates, built through both delivery on mandates and nurturing of relationships. With an unparalleled talent network, we provide experienced, top-quality professionals, and pride ourselves on being able to match talent not just to the requirements of the role, but also to the style of the organisation.
If you would like to discuss your hiring needs, or a recent track record of our work conducted, please contact us.
Adnan Maddix, Partner, Head of Singapore
T: +(65) 6950 4505, E: adnanmaddix@danosassociates.com
Specialist: Risk & Analytics, ESG
Serene Tan, Associate Partner, Singapore Head of Compliance
T: +(65) 6950 4501, E: serenetan@danosassociates.com
Specialist: Compliance, Financial Crime
Sue Buyong-Virágvölgyi, Associate, Compliance
T: +(65) 6233 6872, E: suebuyong@danosassociates.com
Specialist: Compliance, Financial Crime